Reviews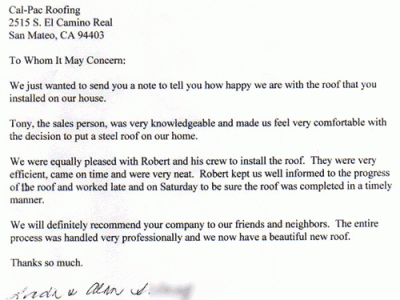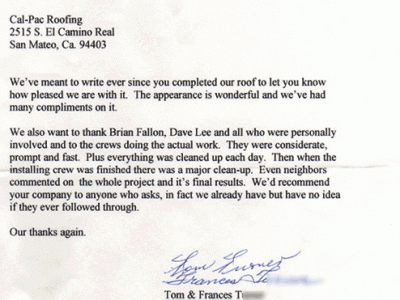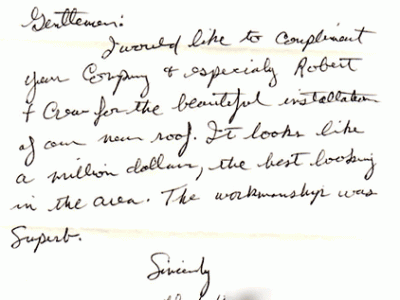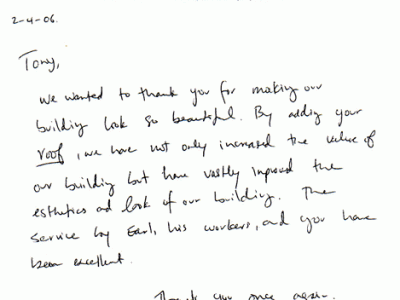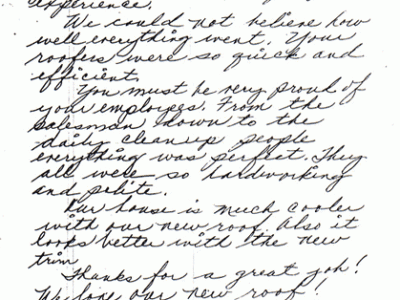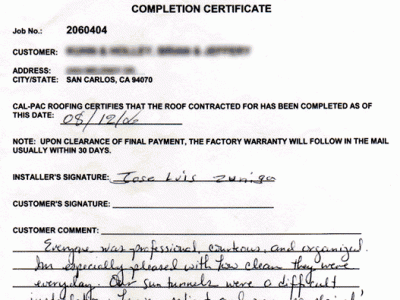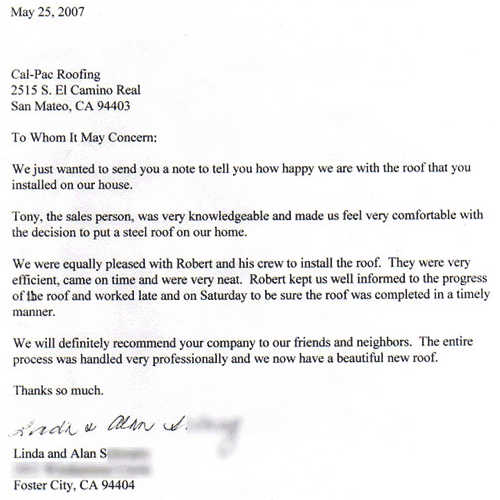 1 / 6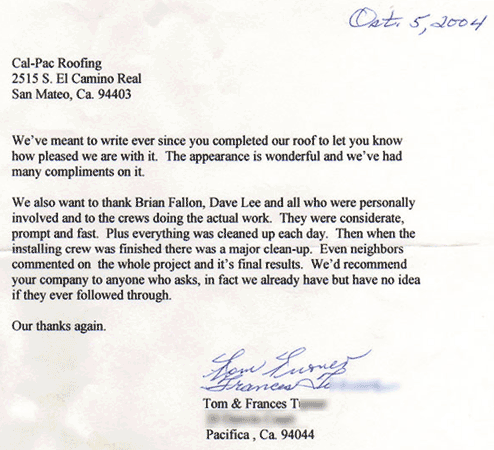 2 / 6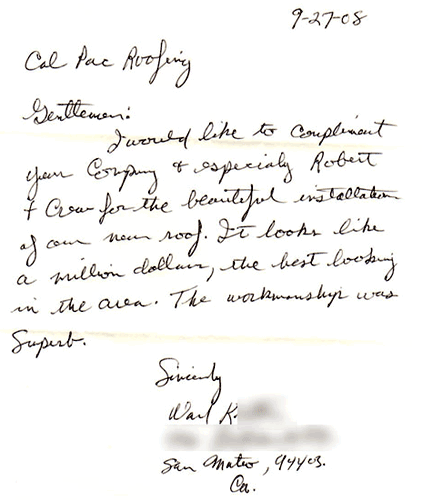 3 / 6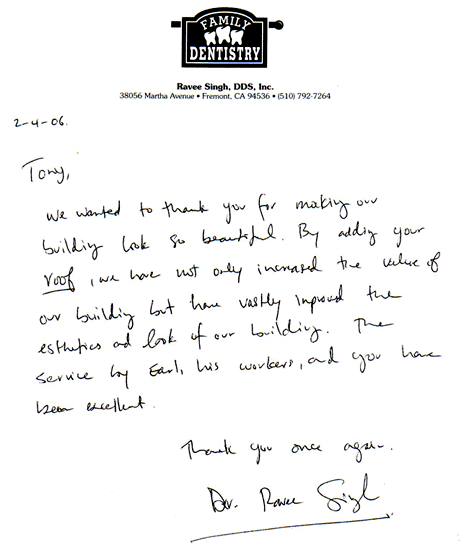 4 / 6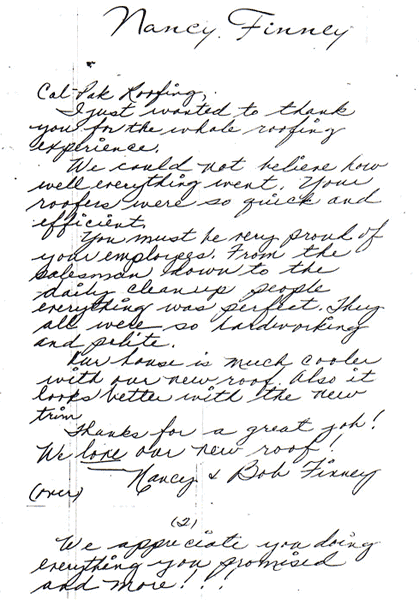 5 / 6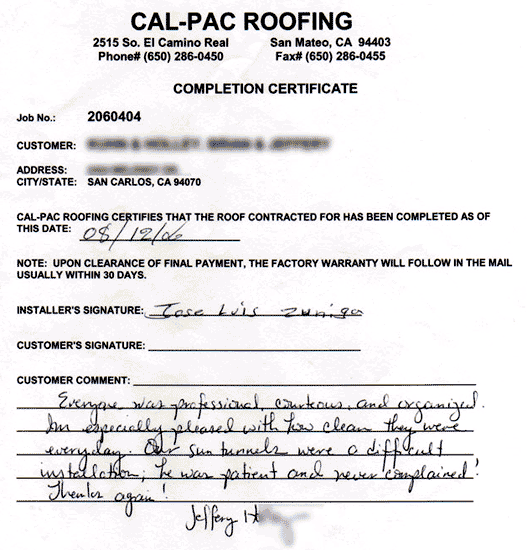 6 / 6
---
Average Review Rating
Average Rating: 5
Total Reviews: 25
List Of Reviews
By:
Eddie C.
on
Cal-Pac Roofing San Mateo
Our house has needed a new roof for the last 15 years at least. It was perhaps 55
years old and really pushing our family luck! This year's drought was made to order for us to make it through one more season. I extensively researched all of the roofing types we could go with. Asphalt Composition, Tile, Cement, Wood Shake, and found all of those options not really to my liking. Sure Composition shingle is the most common and most promoted, but it's also kind of boring and flat. I was looking for two things: real durability and an aesthetic that made our house look better than it did before. Those two goals are hard to accomplish. I met Tony Fredericks, Cal-Pac's lead guy on scouting your home and giving excellent technical advice about what needs to be done. He knows his stuff for sure, gets on the roof and you can tell right away he's on your side to help you get what you want. He presents great options and we went over just about every conceivable one. I'm a pretty picky guy, doing lots of research and thinking- so that projects that i take on and want to complete leave me feeling good, and not like oh man.. why didn't i think that through more. He helped me to navigate all the important steps and provided me with insights into all the styles available, the pros and cons.
boring flat asphalt. We saw many homes in our neighborhood had roofs installed by Cal-Pac and discovered the material was from a manufacture called Decra. Stone Coated, Metal Tiles- Baked on forever goodness, 50 year warranty, each piece carefully placed on a subframe they build in grid fashion on your roof. They have done so much work in our area that people call them "cal pac roofs' when in reality Cal Pac is the certified installer for Decra.
It is a really neat product. It's as you will read from other Yelpers a bit more expensive than your standard roof, but the results are amazing. Modern , dimensional, sculpted.. and will leave you with a roof that will probably outlast you. You can do roof over roof (two roofs) but just do a tear down and get the clean lines and shape of a one roof installation. Tony and the Crew, Earl, the installation manager were great.. Eduardo and his installer team were great, paying great attention to detail and showing up every day on time and working all day long. They picked a great time in the break from our recent storms and had the whole thing done just in time. Man does the house look sharp.. the first storms came in the day after the roof was done.. what a nice feeling to have that new roof. My wife and i had to save a bit extra for the Decra Shake. We went with the Shake Style  / Shadowood Color, very sharp. All along the way they the were right there with me and appeasing my requests for somethings to be done a certain way and the way i wanted them to look. They did a great job following along and getting me everything I wanted.
Look Up Decra on the internet and give Cal- Pac a call.. they have a showroom as well in San Mateo where you can see the different products.. They have Shake Style, Tile Style (little wavy) and Villa Tile metal roofs. I'm sold on them.
If Asphalt composition is your thing.. they are master elite installers of GAF.. the biggest and best Asphalt comp manufacturer. Not many companies get Master Elite Installer status.. so that tells you something right there.
By:
Patrick P.
on
Cal-Pac Roofing San Mateo
The story started like that. I wanted to save some money and tried Home Depot to do my garage roof. It was very poorly done and took many efforts and home depot coming back, mistakes after mistakes, to get the job done, on the simplest roof possible.
So I went and look for a serious company to do the complex work on the main house and Cal-Pac came hands on, most highly recommended by everyone I talked with, and the GAF company who is also recommending them and there are reasons for that:
They are indeed the TOP of the top!
The Cal-Pac team was outstanding: Fast, accommodating to work with other contractors, super professional. There was a mistake done on the way, Cal-Pac fixed it the same day. The work looks outstanding!
Cal-Pac belongs to these companies that you wish to recommend so much because there are not many like these anymore.
Many houses in my area actually used them 10, 15 years ago, and everyone loves them and enjoys the quality of their work till this day.
By:
E Y.
on
Cal-Pac Roofing San Mateo
From top down, this the best outfit we have encountered while renovating our house. At no time did we feel like this company was attempting to cut corners or to do less than the estimate. In fact, they went out of their way to step above their contractual agreement. Awesome crew.
Tony F. is the best. Eduardo is a good crew captain. He's always on time and clean up the site well between evenings.
By:
Anne K.
on
Cal-Pac Roofing San Mateo
Tony and his team did it again. They re-roofed our office building in record time and with such ease. Again...we encountered a problem...5 months later. They came out and it turns out it wasn't their problem at all but rather our HVAC team.
This time we use the Duralast product for the flat roof. We've gone from having buckets in nearly every office to nothing. So exciting to have a dry office this winter. These guys are professional and fast. Every time we can recommend them we will.
By:
Octavio C.
on
Cal-Pac Roofing San Mateo
To sum it up, it was a job well done!  Good quality materials and good workmanship.  Cal Pac just made the whole process so simple and smooth - from beginning to end.
The big storm that hit the bay area in December 2014 apparently hurt a lot of homes and so roofing companies were in high demand.  We found it so difficult to get an estimator come out to assess our roof and provide a quotation.  Of the 4 roofing companies we called, Cal Pac responded so quickly and set a date to assess our roof.

Tony (from Cal Pac) came by and on that same visit, gave us a quotation.  We were impressed and signed the next day.   Soon after, the other 3 roofing companies came over and gave us lower bids.  We still went with Cal Pac because they offered the 25 year Golden Pledge warranty while the others offered 10-15 years.
Tony was thorough, obviously knew was he was talking about, and he gave different suggestions on what we could do with the roof, he was brief and just cut thru the chase.  He gave us examples of roofs they had done, which was very helpful as it was hard to visualize the roof type/color from a brochure. He was always accessible and went above and beyond by providing us guidance and suggestions in our "semi-roof-related" questions that was not part of their scope of work.
We also have to mention that the office staff was also very professional and friendly and the entire crew was very polite and just quietly worked about their way.
We would most certainly recommend CalPac to any of our family and friends needing roof replacement in the future!
By:
Kim B.
on
Cal-Pac Roofing San Mateo
Cal Pac Roofing did a great job on my new roof and custom gutters. We has lots of dry rot issues and they resolved that problem and made all of the necessary repairs to the stucco exterior to make it look like there was never an issue. Their pricing is competitive and I would use them again.
By:
Jean U.
on
Cal-Pac Roofing San Mateo
I highly recommend CalPac Roofing in San Mateo.  Tony, right from the beginning, was very thorough and patient in helping me choose the correct roofing material.  Once the job started, Earl, the supervisor, kept me completely informed of what was happening each day.  The crew was hard working, efficient and cleaned up every day!!  They were all professional and a pleasure to deal with, including the owner John.
By:
Kris W.
on
Cal-Pac Roofing San Mateo
Cal-Pac did our roof in Foster City. It was a big, complicated job and they handled it professionally: showing up when they said they would, meticulously cleaning up each night, finishing when they said they would and handling a couple of issues quickly and competently. I would definitely recommend them.
By:
Andy T.
on
Cal-Pac Roofing San Mateo
We've been dreading dealing with our roof situation as we had 2 layers of roofing and knew that there was some damaged wood on the eaves and rafters. We called 4 roofing companies, all based on BBB and Yelp reviews and chose Cal-Pac Roofing after sitting down with Tony, the estimator, and having all of the optioins explained to us. Along with showing us pictures of the problem areas and his recommendations for solving them, he went over all of the roofing choices available to us, as well as realistic life spans and warranty options.
We chose a GAF composition shingle since we were very impressed with the 25 year workmanship warranty that Cal-Pac is authorized to provide since they're a Master Elite GAF Contractor. One of the other roofing companies we called also offered this warranty but didn't really explain what was involved in the construction process to get the warranty or how they were going to handle the damaged areas so we just felt more comfortable with Cal-Pac. They did the work just as described, Tony sent us pictures each day of the progress and the roof looks great. The best part is that we now have one more item crossed off our list of things to deal with on this old house.
By:
Kenric L.
on
Cal-Pac Roofing San Mateo
The estimate was quickly scheduled (unlike other companies that made me wait for over a week or two) and Brian was friendly and informative.  He went up on the roof to take a look and wrote up a prelim estimate for the job.  A lot of other estimators didn't even bother going up on the roof to inspect it.  Cal Pac was one of the more competitively priced bids and they were GAF Master certified with the lifetime warranty, so I went with them.
The job started ahead of the scheduled time frame they first gave me, so that was a good surprise. The job started on a Tuesday and ended four days later. As far as I could see, the work was done quickly and efficiently using the correct materials.
Two issues made me take off a star:
1. The job site wasn't cleaned up as well as I would have liked, especially after the first day of during the roof tear off. I found lots of old shingle pieces and pieces of wood shards around the back and front of the house. I also found quite a few nails as well (three nails on the driveway which would have been bad for my wife's car when she came home). I think they probably just cleaned the house 2-3 feet around the house and didn't really inspect the rest of the lot.
2. After the job was finished on that Friday, I didn't hear from them the entire next week. The final inspection wasn't complete and they still had their sign out front on my yard. After the week of not hearing from them, I called to see what was up and they quickly scheduled the final inspection a few days later. They basically got free advertising from my house and I wonder if that would have been the case indefinitely unless I called them.
Despite the down marks, I would still use them for a roofing job as I believe their work was solid and their price was much better than most of the competition.