Reviews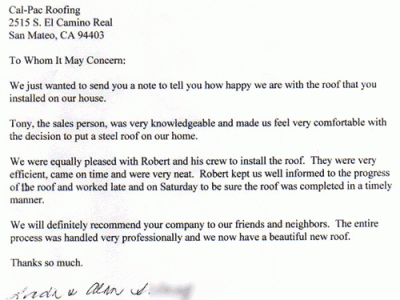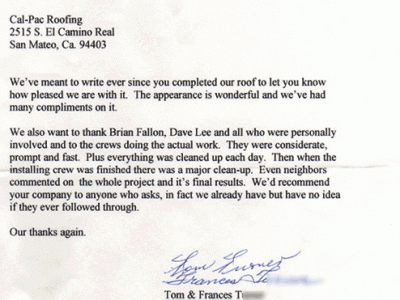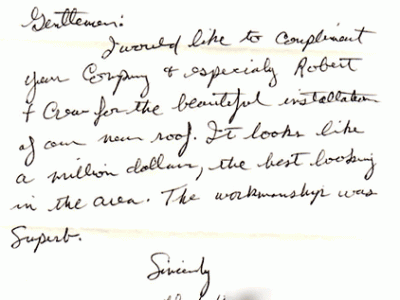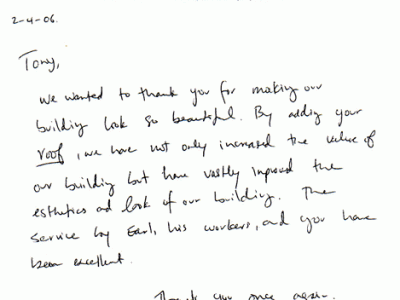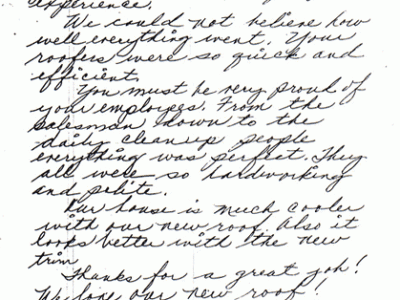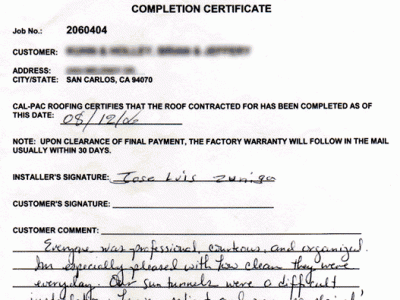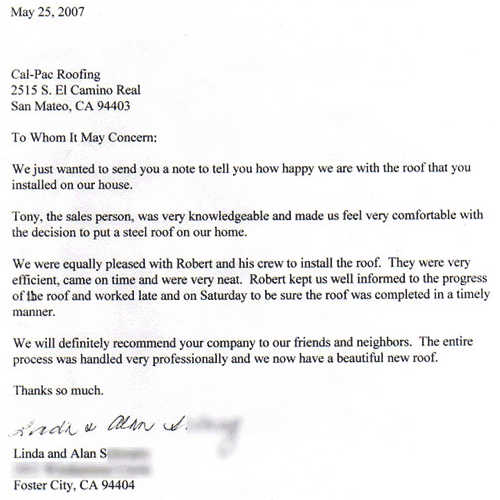 1 / 6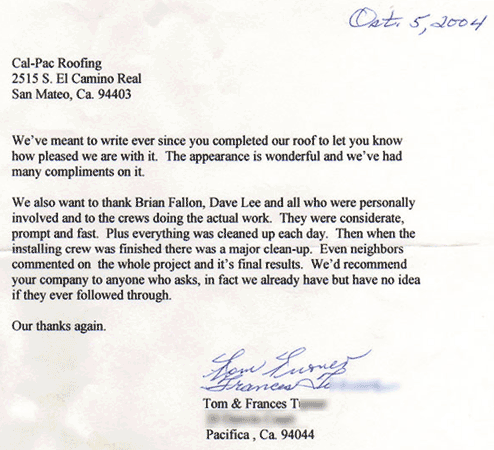 2 / 6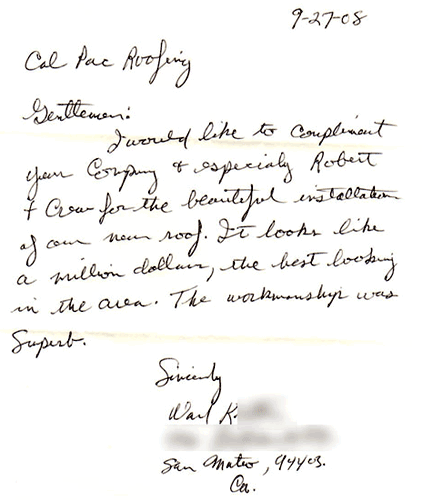 3 / 6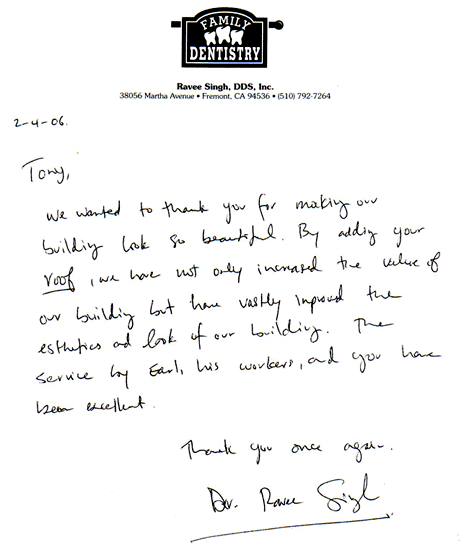 4 / 6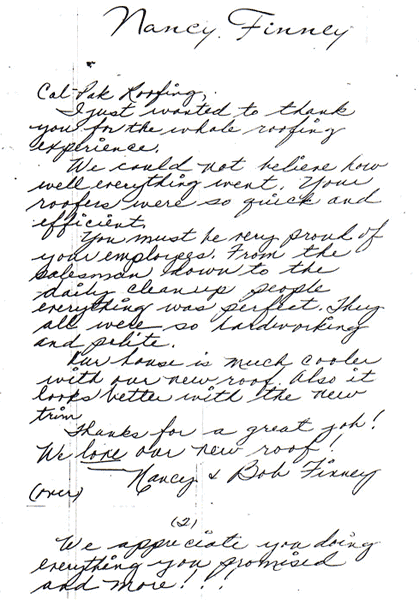 5 / 6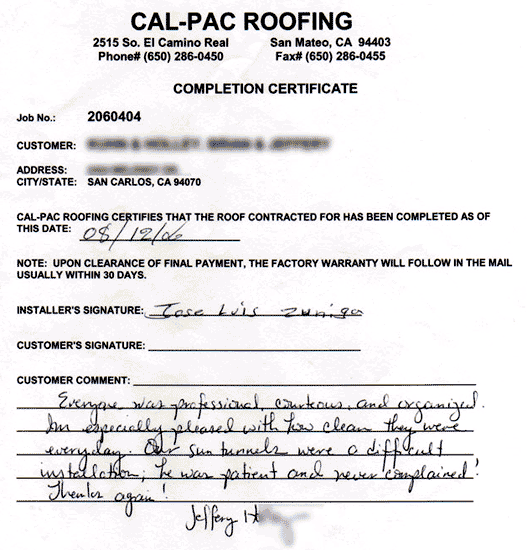 6 / 6
---
Average Review Rating
Average Rating: 5
Total Reviews: 25
List Of Reviews
By:
Shirley R.
on
Cal-Pac Roofing San Mateo
John,Tony& Earl did the beautiful roof on my house, the entire crew were on time & professional. I interviewed 5 roofing companies & so happy I picked Cal-PAC Roofing. I highly recommend them. Shirley
By:
E. S.
on
Cal-Pac Roofing San Mateo
We have only great things to say about Cal-Pac. The entire process from estimate to job completion was extremely smooth and our roof looks great. In addition to the great work, there were a few things that really stood out about Cal-Pac for us: (1) their timely communication, and (2) they really care about the quality of their work.

Throughout the entire process, Tony (our sales person) and Earl (our project manager) kept us informed about what was going on. Anytime we had questions we received answers extremely quickly.

Prior to installing the new roof, we also had an area that was leaking during the rainy season. Tony came out and patched the area for us to avoid any damage to our home while we were waiting for the weather to clear and have the roof installed.

Earl and team then did our install. They showed up timely every day during the install and made sure the area was clean when they left each evening.

We were also planning on replacing pool solar on our roof once the new roof was installed and were extremely concerned about roof penetration from the solar (our prior solar install caused a lot of issues with our roof). To avoid any future issues, Earl coordinated with our solar company to ensure that the solar was put on the roof with no penetrations. He even came out and reinspected the roof after the solar was on to make sure it met his requirements.

In short, Tony, Earl and Cal-Pac are A+.Useful 1FunnyCool
By:
Pamela K.
on
Cal-Pac Roofing San Mateo
We needed a roof. Seriously. I had the neighborhood's only garaged car that got wet in a storm... Finally bit the bullet and decided to re-roof.
We asked for three bids from well-known, reputable Peninsula companies, including one with which I'd previously worked. Initially, I leaned toward them.
After the roof inspections were complete and bids submitted to us, Cal-Pac was the frontrunner by virtue of the meeting with Tony. He seemed to do most meticulous roof inspection and to have the best handle on likely challenges.
Included in the mess over our heads was an incorrectly installed skylight and likely dry rot. There was no way to know what would be salvageable until into the job and he offered various plans for addressing potential issues.
Cal-Pac's bid was in the middle of the three, with much less written material than the other two. In other words, if pages of documentation have value, Cal-Pac/Tony's bid didn't seem as thorough as the others, though his presentation did. We asked him to return (as he had offered to do during his inspection visit). We set the bids on the kitchen table and had him address the differences, our expectations, and our questions. We found out that most of what was included in the other bids was building code anyway. Kinda like printing on a car sticker. "Engine, transmission, steering wheel included."
That was helpful information. And we chose Cal-Pac.
The truth is I'm picky, impatient, and chaos intolerant. I spin up easily and I've made catastrophizing an art form. We figured there'd be dry rot in the decking and/or eaves and it would take additional dollars to fix. There were unknowable issues until the tear off. My imagination worked overtime about how expensive the ordeal would really be and how much yard damage might occur in the process.
I'm a nervous Nellie about my garden. The total package, I know. Be glad my husband married me and got me off the streets.
Safe to say I wasn't looking forward to the experience. Between the bucks, the mess and the racket, I dreaded the whole deal.
I like Cal-Pac but there's no way to glamorize the noise as men were deployed on the roof, concrete tiles yanked, then sent crashing into the truck bed. Next came the truckload of new shingles sent up by conveyor and dropped into stacks across the roof ridge.
Yeah, no way to pretty up that.
But after that, it was painless. The crew was polite and fast. They did their best to be low impact. There was tool and compressor noise but no shouting over it to each other. I'm in a home office where I actually continued to work after the initial assault.
There was dry rot hiding under the old tile roof but Tony worked with us to keep costs reasonable and cut a break where he could.
The debris pile (otherwise known as the 'crap stack') grew over the course of the week but they policed the yard at the end of each day and kept it limited to a certain area, then hauled it away when finished. Even asked for a broom to sweep up.
They met their estimated timetable, got to our job a week ahead of schedule, and gave us a heads up before moving our date to be sure it worked for us.
The best part of the experience was that Cal-Pac didn't sell the job and disappear. Tony was here nearly every day checking that everything was going well. By that I mean he was on the roof taking photos which he emailed to us so we could see what the roofers saw. He did that a couple of times during the project. He shepherded things from start to finish and it seems weird to say since he's the company rep, but I felt as though he was our advocate.
No problem recommending these guys. We spent a little extra and I think we have a really quality job. Whether we live here for decades or sell next year, I'll feel good with this roof over our heads or turning it over (with its transferable 30 year materials & labor warranty) to the next owner.
The crazy, hard-to-please lady is happy.
Oh - and the roof looks really great, including a new skylight tinted to match the roof tiles. Just beautiful. Trust me. Mrs. Picky says so.
By:
Jarom F.
on
Cal-Pac Roofing San Mateo
Cal-Pac Roofing has provided roof installations on a number of my projects over the last twenty years and our experience has always been positive.  The general manager sees that roof integrations are well planned and executed.  Cal-Pac maintains a well-trained and competent workforce who genuinly care about the quality of their work and the lasting impression their jobs will have on property owners.  I have no hesitation working with them in the future.
By:
M S.
on
Cal-Pac Roofing San Mateo
Finished a day ahead of time and the rain! Roofing experts, proving great advice and guidance. Thank you Tony and Earl
By:
Francis Y.
on
Cal-Pac Roofing San Mateo
Choosing the right roofing contractor is always time consuming, given the numerous ads and reviews on line. But I am lucky for two of my neighbors in Foster City  hired Cal-Pac to do their new roofs. This saved me all the troubles to shop around as I could easily get their cost and  feedback from my neighbors and was able to witness their superb performance on site.  I then called Tony for an updated quote and he gave me a detailed assessment of our roofing condition and recommended the appropriate GAF composition shingle with the 25 year workmanship warranty which suit our need.  When the job started, I was happy to note  the same crew who did my neighbors' roofing projects showed up.  After a new roof was installed on my house, I was happier to see this team did not let me down and met my expectations like my neighbors. Members like Brian, Robert etc  are real roofing professional veterans. They were punctual, industrious, attentive and always emphasized on quality. Earl the installation manager was very responsible and kept me informed daily of the progress and I am grateful that he drew my attention to rotted plywood under roof which saved my future replacement need.
Thank you all in Cal-Pac for my nice new roof !
By:
Lila L.
on
Cal-Pac Roofing San Mateo
If I could give them 10 stars I would.  Everyone I have dealt with has been terrific.  The work is wonderful and they have helped me even when its not been the roof but a leaking window.  Wish I could find other contractors as good as they are.
By:
Nancy C.
on
Cal-Pac Roofing San Mateo
Cal PAC Roofing is an excellent contractor.  I cannot say anything negative about them.  From the estimator to the workers they are all polite, let you know if anything unusually comes up,  always on time and they do a great clean up job at the end of the day.  I got 5 bids to replace the roof on my home.  Cal PAC was not the lowest and not the highest.  I selected Cal PAC because I felt the communication between us was good.  I asked questions and they gave me an answer.  If the person I was talking to could not answer, they would check on it an get back to me.  
Here's a good example.  First day on the job, they start to tear the old roof off.  They found one side had 2 layers and the other had 3 layers.  The 2 layers was plywood and tiles, but the 3 layers was shingles and 2 layers of tiles.  They took pictures so I could see what they were talking about.  I couldn't explain how that happened.  Now their bid was for the 2 layers, so there was going to be some additional cost. I told them to continue working and let me know ASAP what the additional cost would be. To my surprise the addition cost was much lower then I expected.  I'm happy I have a new roof and I'm even more happy I picked Cal  If you are ever looking for a roofing contractor call Cal PAC and mention my name, Nancy Chew.
By:
Gregory L.
on
Cal-Pac Roofing San Mateo
Cal-Pac Roofing did the metal roofing for my new house in Millbrae, CA.  My wife loves it.  Price is not cheap but worth it.
By:
Susan C.
on
Cal-Pac Roofing San Mateo
We've had our share of the usual horror stories with workmen in the construction field, so we put off contacting a roofer for a year. Finally, with the rainy season looming, and the flashing on our 20+ year old roof in visibly bad shape, even from the ground, I went on Yelp to begin what I thought would be a long, excruciating process.
I figured, with all the great reviews, Cal Pac would be a good place to start. Turns out that we felt so good about Tony and the way he answered all our questions, that we signed the contract the day he came over to the Coast to evaluate our roof. He was able to give us a start date for the project that fit our schedule.
Tony remained accessible to our calls throughout the project. The office staff was helpful as well when we had questions.
The guys who came to do the actual work were polite, on time, neat looking, diligent, and worked in a timely, but unhurried manner. Brian, the on-site boss, oversaw the details. Earl came by to take photos and check on how the work was going. There was a scrupulous clean up every day. Our two story house had a beautiful new roof in three days.
We are happy we went with Cal Pac Roofing.