Reviews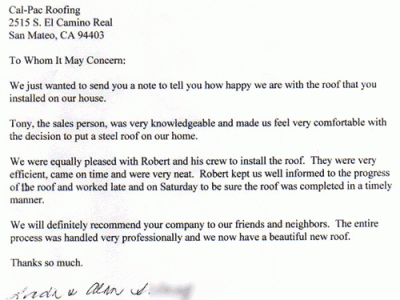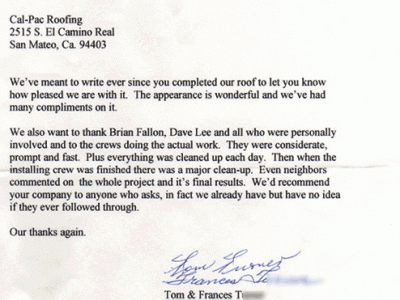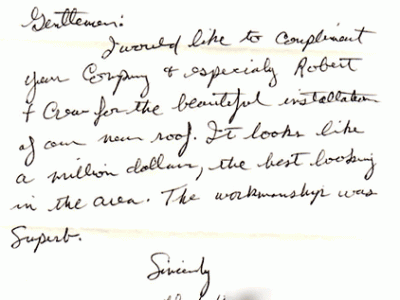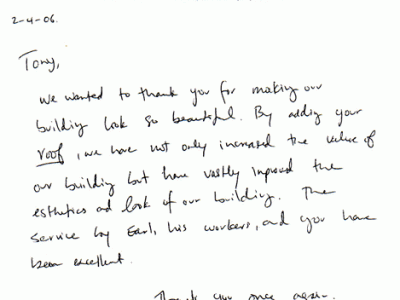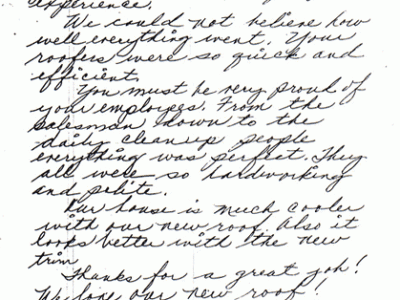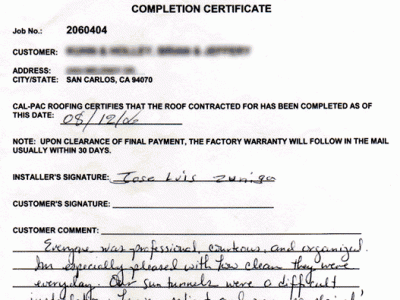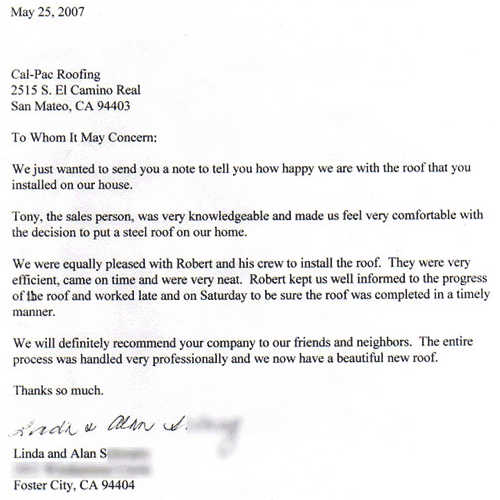 1 / 6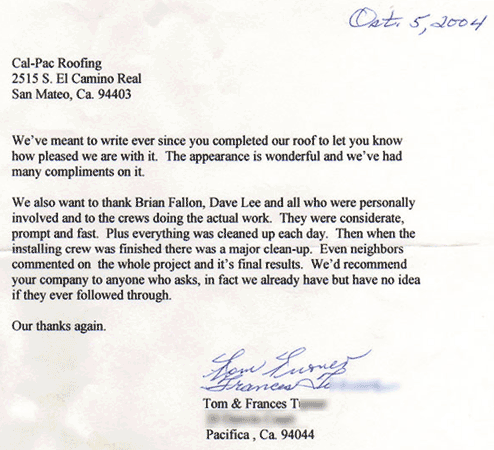 2 / 6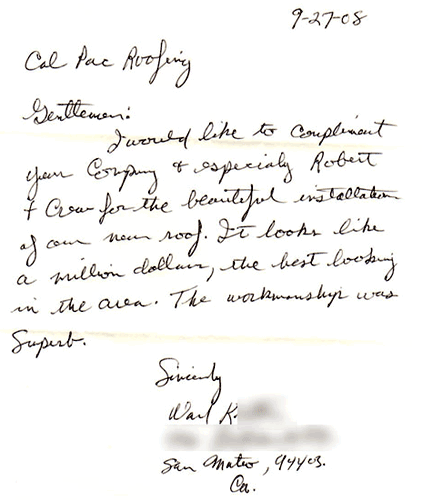 3 / 6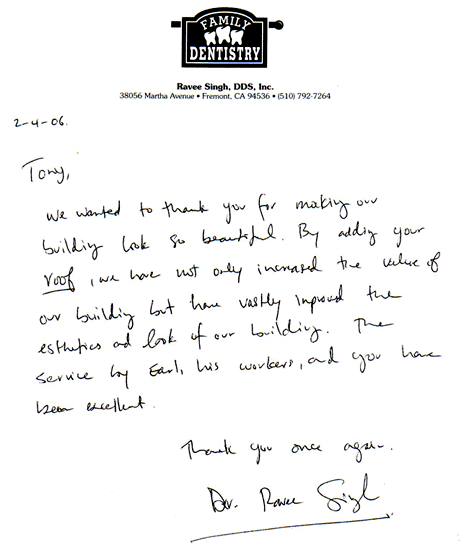 4 / 6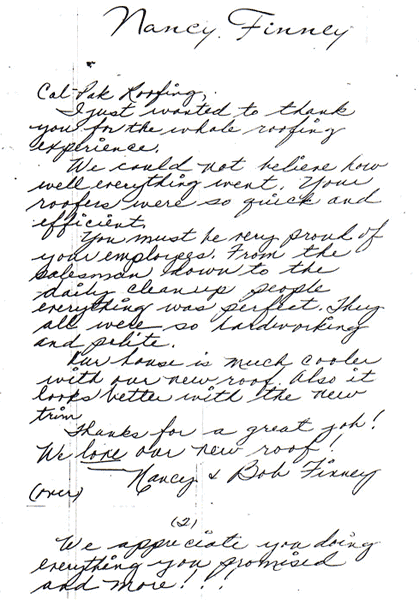 5 / 6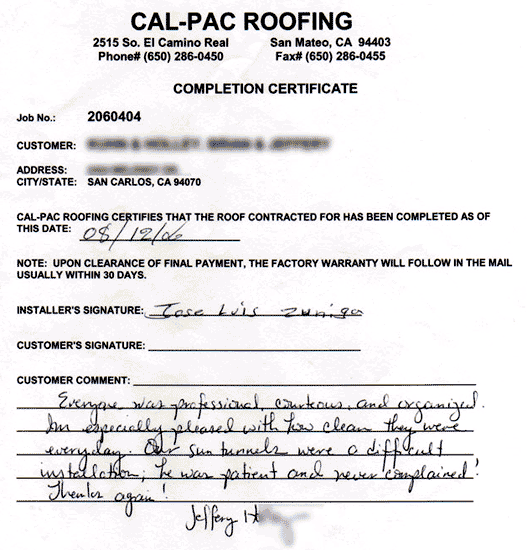 6 / 6
---
Average Review Rating
Average Rating: 5
Total Reviews: 25
List Of Reviews
By:
Alex Oberle
on
Cal-Pac Roofing San Mateo
We interviewed multiple roofing companies before we selected Calpac and we were not disappointed. John, Earl, and the team did an initial walk through of the roof and helped us select the type of shingle and gutters. They started on the roof a few weeks later and finished it all in about 4 days. We have a section of the roof that is flat and they laid down a rubber membrane that came out really nice. They were really easy to work with and coordinated with us as we did some electrical work while the roof was off. I highly recommend Calpac for your roof!!
By:
Barbara Bekins
on
Cal-Pac Roofing San Mateo
Cal-Pac repaired my existing solar system by installing new microinverters. They did a fantastic job. They were a pleasure to deal with and always showed up on time. I highly recommend them.
By:
Nancy C.
on
Cal-Pac Roofing San Mateo
Cal PAC Roofing is an excellent contractor.  I cannot say anything negative about them.  From the estimator to the workers they are all polite, let you know if anything unusually comes up,  always on time and they do a great clean up job at the end of the day.  I got 5 bids to replace the roof on my home.  Cal PAC was not the lowest and not the highest.  I selected Cal PAC because I felt the communication between us was good.  I asked questions and they gave me an answer.  If the person I was talking to could not answer, they would check on it an get back to me.  
Here's a good example.  First day on the job, they start to tear the old roof off.  They found one side had 2 layers and the other had 3 layers.  The 2 layers was plywood and tiles, but the 3 layers was shingles and 2 layers of tiles.  They took pictures so I could see what they were talking about.  I couldn't explain how that happened.  Now their bid was for the 2 layers, so there was going to be some additional cost. I told them to continue working and let me know ASAP what the additional cost would be. To my surprise the addition cost was much lower then I expected.  I'm happy I have a new roof and I'm even more happy I picked Cal  If you are ever looking for a roofing contractor call Cal PAC and mention my name, Nancy Chew.
By:
Gregory L.
on
Cal-Pac Roofing San Mateo
Cal-Pac Roofing did the metal roofing for my new house in Millbrae, CA.  My wife loves it.  Price is not cheap but worth it.
By:
Susan C.
on
Cal-Pac Roofing San Mateo
We've had our share of the usual horror stories with workmen in the construction field, so we put off contacting a roofer for a year. Finally, with the rainy season looming, and the flashing on our 20+ year old roof in visibly bad shape, even from the ground, I went on Yelp to begin what I thought would be a long, excruciating process.
I figured, with all the great reviews, Cal Pac would be a good place to start. Turns out that we felt so good about Tony and the way he answered all our questions, that we signed the contract the day he came over to the Coast to evaluate our roof. He was able to give us a start date for the project that fit our schedule.
Tony remained accessible to our calls throughout the project. The office staff was helpful as well when we had questions.
The guys who came to do the actual work were polite, on time, neat looking, diligent, and worked in a timely, but unhurried manner. Brian, the on-site boss, oversaw the details. Earl came by to take photos and check on how the work was going. There was a scrupulous clean up every day. Our two story house had a beautiful new roof in three days.
We are happy we went with Cal Pac Roofing.